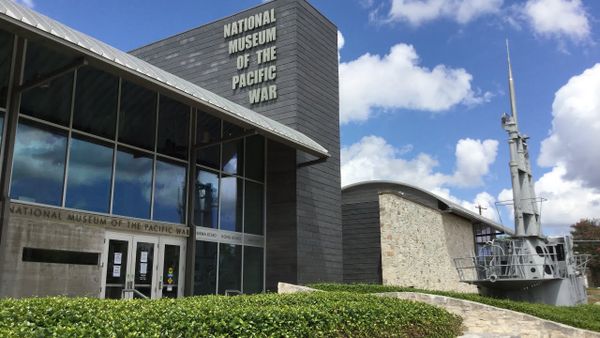 National Museum of the Pacific War
311 E. Austin St, Fredericksburg, TX 78624 - United States
830-997-7860
Smithsonian Affiliate Museum
The National Museum of the Pacific War (NMPW), founded in 1967, is the only institution in the continental United States dedicated exclusively to telling the story of the Pacific and Asiatic Theaters in World War II. The Museum annually welcomes more than 100,000 visitors, including at least 15,000 students from across the state. The museum sits on six acres in downtown Fredericksburg, Texas featuring three galleries with more than 55,000 square feet of exhibit space, 40 media installations, approximately 900 artifacts, 15 macro-artifacts, and hundreds of photographs. The Museum is a Texas Historical Commission Property, managed and supported by The Admiral Nimitz Foundation, a 501 (c)(3) charitable organization.
Exhibits
Our traveling exhibit is The Art of Fredericksburg: 175 Years will feature more than 50 original pieces of artwork from well-known artists from the Fredericksburg area of the Texas Hill Country. The nearly 30 artists chosen for this exhibition span 175 years from Fredericksburg's founding to the present day. Among the early artists are Seth Eastman, an Army officer stationed at Fort Martin Scott, and German-born Hermann Lungkwitz, and Richard Petri. Later artists include Lee Ethel, Phil Bob Borman and sculptor Jonas Perkins. The exhibit is presented as part of Fredericksburg's 175th Anniversary Celebration. Artworks are on loan from Texas museums such as McNay Art Museum and The Witte Museum, and from private collections.
Participation in Museum Day is open to any tax-exempt or governmental museum or cultural venue on a voluntary basis. Smithsonian magazine encourages museum visitation, but is not responsible for and does not endorse the content of the participating museums and cultural venues, and does not subsidize museums that participate.