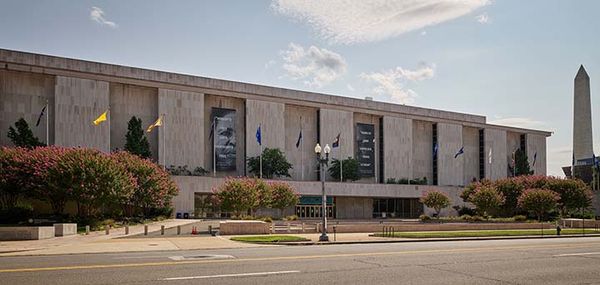 National Museum of American History
12th and Constitution Avenue NW, Washington, DC, DC 20003 - United States
202-633-1000
Smithsonian Museum
Free Everyday
The National Museum of American History is home to more than 1.8 million objects and more than three shelf-miles of archival collections. On behalf of the nation, we preserve and share this extraordinary national collection encompassing everything from the original Star-Spangled Banner to Abraham Lincoln's top hat; from pioneering early computers to the first artificial heart; from Dizzy Gillespie's angled trumpet to the workshop of Ralph Baer, inventor of the home video game. Our archival collections include a remarkable array of American history in documents, photographs, and other works, including major holdings on the histories of American business and music.
Our artifacts form a fascinating mosaic of American life and comprise the greatest single collection of American history in the world.
Exhibits
The museum's exhibitions explore fundamental American ideals and ideas—such as democracy, opportunity, and freedom—and major themes in American history and culture, from European contact in the Americas to the present day.
Recently opened exhibitions at the museum are:
¡Presente! A Latino History of the United States, the inaugural exhibition of the National Museum of the American Latino. On Saturday, September 17, the National Museum of American History will be the site of a Latino Heritage Festival Family Day and Concert celebrating ¡Presente!, hosted by the National Museum of the American Latino.
Girlhood (It's complicated): Young women are often told that girls are "made of sugar and spice and everything nice." What we learn from the past is that girls are made of stronger stuff. They changed history. From Helen Keller to Naomi Wadler, girls have spoken up, challenged expectations, and been on the front lines of social change. Although definitions of girlhood have changed, what it means to grow up female in the United States has always been part of the American conversation.
¡Pleibol! In the Barrios and the Big Leagues / En los barrios y las grandes ligas: ¡Pleibol! examines how generations of Latinos/as have helped make the game of baseball what it is today. From youth and community teams to the Major League, the exhibition reveals how baseball brings people together regardless of race, class, or gender. These inspirational baseball stories reflect larger themes in American history that connect us all, on and off the diamond.
At the heart of the museum is our deeply moving exhibition on our most iconic artifact, The Star-Spangled Banner, The Flag That Inspired the National Anthem. New West Wing exhibitions opened in 2017 include American Democracy: A Great Leap of Faith and Many Voices, One Nation, which ask visitors the question, "What kind of nation do we want to be?" Major exhibitions on innovation, money, and business history explore these topics from a range of perspectives and challenge visitors to consider what is distinctively American about them.
In our East Wing, landmark exhibitions include The Price of Freedom: Americans at War, which surveys the history of U.S. military conflicts and examines ways in which wars have been defining episodes in American history. America on the Move immerses visitors in the sights, sounds, and sensations of transportation in the United States from 1870 to the present. Familiar favorites on view include The American Presidency: A Glorious Burden, Within These Walls, and The First Ladies.
The museum welcomes visitors of all ages and abilities. Draper Spark!Lab and Patrick F. Taylor Foundation Object Project offer a wealth of opportunities for older kids to get their hands on history. We offer audio tours for adults, families, and preschoolers, and highlights guides to the collection in 8 different languages.
A notice on closures:
Exhibitions in our 1 East wing, including America on the Move, Lighting a Revolution, and Power Machinery will be closed from September 6 to November 2 for routine maintenance (dates subject to change).
Dorothy's Ruby Slippers from The Wizard of Oz are off view to prepare for their re-installation in the museum's upcoming exhibition, Entertainment Nation/Nación del espectáculo, opening December 9.
Due to construction, a section of The American Presidency is temporarily closed.
Wegmans Wonderplace is currently closed.
Participation in Museum Day is open to any tax-exempt or governmental museum or cultural venue on a voluntary basis. Smithsonian magazine encourages museum visitation, but is not responsible for and does not endorse the content of the participating museums and cultural venues, and does not subsidize museums that participate.