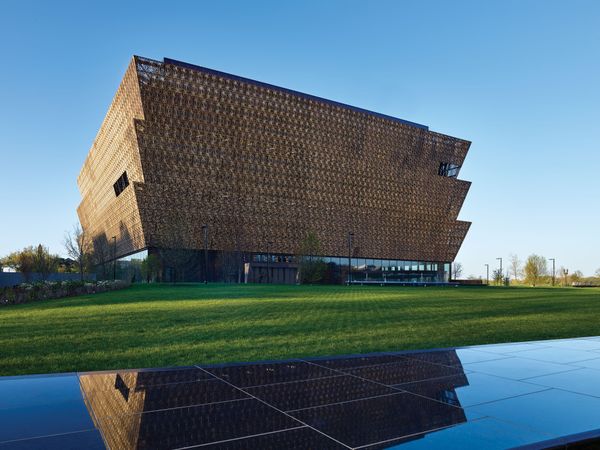 National Museum of African American History and Culture
1400 Constitution Avenue, NW, Washington, DC 20024 - United States
The National Museum of African American History and Culture is the only national museum devoted exclusively to the documentation of African American life, history, and culture. It was established by Act of Congress in 2003, following decades of efforts to promote and highlight the contributions of African Americans. To date, the Museum has collected more than 36,000 artifacts and nearly 100,000 individuals have become members. The Museum opened to the public on September 24, 2016, as the 19th and newest museum of the Smithsonian Institution.
Exhibits
The "Reckoning: Protest. Defiance. Resilience." exhibition will be open in the museum's "Visual Art and the American Experience" space. The updated exhibition space will explore the Black Lives Matter movement, violence against African Americans and how art depicts Black resistance, resilience and protest. As part of this update, the museum will display the newly acquired portrait of Breonna Taylor painted by renowned artist Amy Sherald.
Due to anticipated demand and limited capacity in the gallery, visitors must join a virtual queue (or waiting line) to enter the exhibit. The virtual queue allows visitors to hold their place in line while exploring the rest of the museum. Visitors receive real-time updates of their estimated wait times and an alert 15 minutes before their time to enter. Visitors can only join the virtual queue with their mobile devices at the Visual Art and American Experience gallery on L4 and Walmart Welcome Center on Heritage Hall, or by speaking to any member of the Visitor Services team throughout museum.
Participation in Museum Day is open to any tax-exempt or governmental museum or cultural venue on a voluntary basis. Smithsonian magazine encourages museum visitation, but is not responsible for and does not endorse the content of the participating museums and cultural venues, and does not subsidize museums that participate.