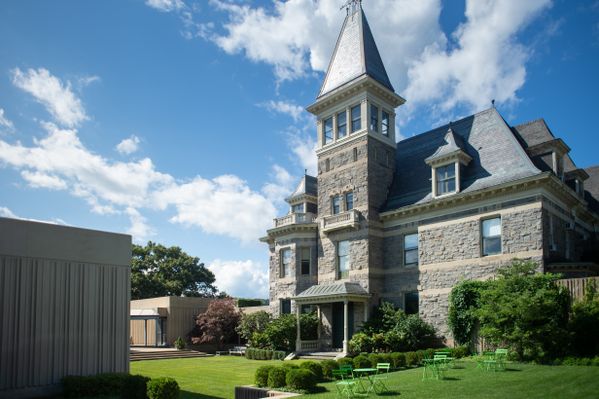 Hudson River Museum
511 Warburton Avenue, Yonkers, NY 10701 - United States
The Hudson River Museum is a preeminent cultural institution in Westchester County and the New York Metropolitan area. Situated on the banks of the Hudson River in Yonkers, New York, the HRM's mission is to engage, inspire, and connect diverse communities through the power of the arts, sciences, and history.
The Museum offers engaging experiences for nearly every age and interest, with an ever-growing collection of American art; dynamic exhibitions that range from notable 19th-century paintings to contemporary art installations; Glenview, an 1877 house on the National Register of Historic Places; a state-of-the-art Planetarium; an environmental teaching gallery; and an outdoor Amphitheater. Accredited by the American Association of Museums (AAM), the Museum is dedicated to collecting, preserving, exhibiting, and interpreting these multidisciplinary offerings, which are complemented by an array of public programs that encourage creative expression, collaboration, and artistic and scientific discovery.
Exhibits
Order / Reorder:
Experiments with Collections
The works on view range across genres: portraiture, figural studies, still life, landscape, and abstraction. Recent additions to the Museum's collection and other artworks on view for the first time are joined by visitor favorites, paired with special loans from Joslyn Art Museum and contributions from regional artists. Rather than structured chronologically, the installation is designed to spark discussion through juxtapositions of styles, outlooks, and eras. Works by renowned artists are in conversation with those now emerging.
Federico Uribe: Plastic Reef
Federico Uribe's fantastical underwater environment bursts with colors and transports us to a three-dimensional oasis filled with creatures, including sea anemones, mussels, and "swimming" fish. In curious and unpredictable ways, the artist weaves together everyday plastic objects—such as used bottles, bottle caps, plastic cutlery, flip flops, and more—to recreate a marine coral reef and its interdependent life forms. With his unique sense of beauty, Uribe plays with the juxtaposition between this whimsical and lively subject matter and its potentially destructive material—plastic.
Cycles of Nature:
Highlights from the Collections of the HRM and Art Bridges
The cyclical essence of nature and the universe exists on both grand and small scales: day becomes night; seasons pass and return; plants grow, die, and bloom again; and tides ebb and flow. This exhibition presents sixteen landscape paintings, still lifes, and photographs to invite us to take a closer look at how artists embrace nature's cycles, explicitly or implicitly, in their work. The art on view, including superb recent acquisitions to the HRM's collection, alongside exciting loans from Art Bridges, embodies these themes of growth, change, and resilience.
Collection Spotlight: Women Photographers
This exhibition showcases work by ten women photographers in the Museum's collection, with a focus on their use of the figure as an expressive and narrative device. Working from the era of the first cameras with roll film in the 1890s to large format film and alternative processes in the digital age, they created a rich array of work ranging from posed portraits to elaborately composed scenes.
Planetarium Shows
We are thrilled to welcome back audiences to our newly renovated HRM Planetarium! Catch shows at 12:30, 2, and 3:30pm
Glenview Historic Home Tours
At 1 and 3pm, take a Guided Tour of Glenview (as seen in HBO's hit series "The Gilded Age") and experience what life was like in 1877 and explore six fully restored period rooms, including Yonkers' favorite dollhouse, Nybelwyck Hall. See new paintings, sculptures, and decorative arts on view, and a dynamic floral-themed table setting designed by Debra Blair Design. Maximum of 12 visitors per tour; masks are required. Advance ticket purchase is strongly suggested.
Participation in Museum Day is open to any tax-exempt or governmental museum or cultural venue on a voluntary basis. Smithsonian magazine encourages museum visitation, but is not responsible for and does not endorse the content of the participating museums and cultural venues, and does not subsidize museums that participate.