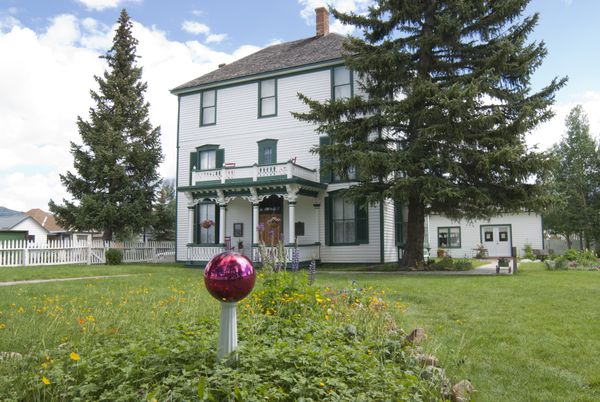 Healy House Museum & Dexter Cabin
912 Harrison Avenue, Leadville, CO 80461 - United States
719-486-0487
Smithsonian Affiliate Museum
In two-mile high Leadville, miners made their fortunes overnight. Leadville was home to the legendary Baby Doe Tabor, who clung to the Matchless Mine—long after her beloved Horace watched his fortune vanish. Today the Healy House Museum & Dexter Cabin look out over another kind of wealth: the historic and scenic treasures of this storied mining town.
Exhibits
August R. Meyer's 1878 Greek Revival clapboard house (now called Healy House) was built for his bride, Emma. The home has been beautifully restored and features lavish Victorian furnishings collected by Leadville pioneers. For years it was a sought-after boarding house and a hub of social life, with croquet on the lawn as Nellie Healy entertained guests in the parlor.
Beside the mansion is the surprisingly plush 1879 log cabin that was mining investor and businessman James V. Dexter's Leadville residence. By the time he built the cabin he was already a wealthy man, one of Colorado's first millionaires, and loved a wide variety of activities. Besides being an avid hunter, Dexter was a collector of coins, gems, etchings, and paintings. He was a sought-after host, and his cabin, although small, allowed Dexter the freedom to entertain informally. He quickly became known as having the "stiffest and most exclusive private poker club" in Leadville.
The lush gardens have been restored in honor of Emma Meyer, the first lady of the house. From the parlor window one can look out on the formal garden with Victorian urns, statuary, garden benches, and gazebo. Visitors are welcome to stroll through the gardens, where many native plants have been identified, and enjoy the magnificent view from the gazebo.
Participation in Museum Day is open to any tax-exempt or governmental museum or cultural venue on a voluntary basis. Smithsonian magazine encourages museum visitation, but is not responsible for and does not endorse the content of the participating museums and cultural venues, and does not subsidize museums that participate.