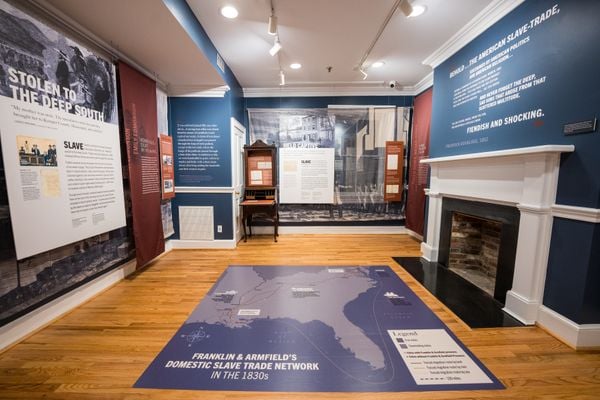 Freedom House Museum at 1315 Duke Street
1315 Duke Street, Alexandria, VA 22314 - United States
The Freedom House Museum at 1315 Duke Street is what remains of a large complex dedicated to trafficking thousands of Black men, women, and children from 1828 - 1861. Slavery, race-based laws, and racial terror erased and diminished African American history and contributions from the national narrative. This Museum seeks to reframe white supremacist history.
This Museum honors the lives and experiences of the enslaved and free Black people who lived in and were trafficked through Alexandria. We invite you to visit the museum to learn, reflect, and advocate for change.
Exhibits
TThe Museum admission includes three floors of exhibitions:
First Floor:
1315 Duke Street - keystone exhibition that centers the narrative on the stories of those who were brought from the Chesapeake Bay area, moved through 1315 Duke Street, and forced to slave markets in the deep South. In addition to personal experiences of individuals trafficked through the domestic slave trade, the exhibit includes archaeological artifacts and a model of the complex.
Second Floor:
Determined: The 400-Year Struggle for Black Equality - travelling exhibition from the Virginia Museum of History and Culture that traces four centuries of Black history in Virginia through stories of extraordinary individuals who struggled for equality and, in the process, profoundly shaped the nature of American society and the meaning of our collective ideals.
Determined in Alexandria - companion exhibition about Black Alexandrians that built the foundations of our community while fighting for equality.
Third Floor:
Before the Spirits are Swept Away - paintings of African American sites by the late Sherry Z. Sanabria. This is a companion exhibition to another at the Alexandria Black History Museum.
Reflection Space with bronze maquette of the Edmonson Sisters by sculptor Erik Blome, a gift to Historic Alexandria from former City Manager Mark Jinks and his wife Eileen Jinks.
Participation in Museum Day is open to any tax-exempt or governmental museum or cultural venue on a voluntary basis. Smithsonian magazine encourages museum visitation, but is not responsible for and does not endorse the content of the participating museums and cultural venues, and does not subsidize museums that participate.