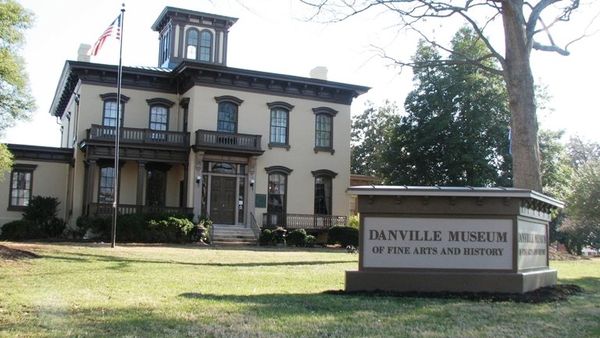 Danville Museum of Fine Arts & History
975 Main Street, Danville, VA 24541 - United States
The Danville Museum of Fine Arts & History is located in the Sutherlin Mansion on Millionaires Row in Danville, Virginia. Built for William T. Sutherlin in 1859, the house has become well known as the "Last Capitol of the Confederacy." It served in this capacity from April 3 until 10, 1865, just weeks before the Civil War came to an end. In 1974, the house was opened as a Fine Arts & History Museum. The site has been designated as a Virginia Historic Landmark and is listed on the National Register of Historic Places.
Exhibits
The four art galleries and the permanent Civil War exhibition, Between the Lines: Danville 1861-1865, are open during all hours that the Danville Museum is open. In Jennings and Schoolfield Galleries is an exhibit about Camilla Williams, Danville native and the first Afro-American woman to sing at a major New York City opera house
Gallery IV is now our children's activity room, with art from our permanent collection. Tours of the historic house are available at any time
Participation in Museum Day is open to any tax-exempt or governmental museum or cultural venue on a voluntary basis. Smithsonian magazine encourages museum visitation, but is not responsible for and does not endorse the content of the participating museums and cultural venues, and does not subsidize museums that participate.