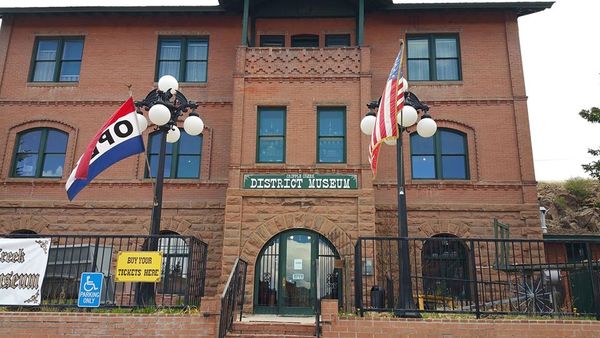 Cripple Creek District Museum
510 E. Bennett Ave, Cripple Creek, CO 80813 - United States
The Cripple Creek District Museum is located in the Midland Railroad Terminal Depot which was built in 1895. In the late 1800s, Cripple Creek had a population of 50,000 people in the district and an additional 70,000 in the surrounding region. Cripple Creek was one of the most colorful and thriving cities in Colorado and was known as the "World's Greatest Gold Camp." This building survived the fires of 1896, which practically burned the whole town, and is one of the oldest commercial structures in Cripple Creek along with the Trading and Transfer Building where additional displays can be found.
Exhibits
The Cripple Creek District Museum has the largest collection of artifacts and photographs about the Cripple Creek District in Cripple Creek. A vast collection of Cripple Creek District minerals are housed here. This display has been noted as one of the finest collections in Colorado. Everything from hard rock mining equipment to everyday household items can be found either on the grounds or in one of the five buildings located on museum property. As well as displays of artifacts and old photographs, 1930's gaming devices can be seen and collections of regalia from early fraternal and civic societies. Of the five buildings comprising the Cripple Creek District Museum, there is an assay office, and two original cabins from Cripple Creek. The cabins are furnished just as they would have been when they were lived in.
Participation in Museum Day is open to any tax-exempt or governmental museum or cultural venue on a voluntary basis. Smithsonian magazine encourages museum visitation, but is not responsible for and does not endorse the content of the participating museums and cultural venues, and does not subsidize museums that participate.