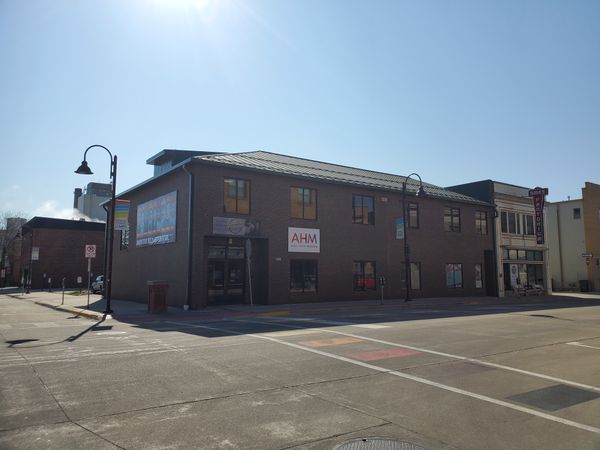 Ames History Museum
416 Douglas Ave., Ames, IA 50010 - United States
The Ames History Museum is located in downtown Ames, Iowa. We provide unique opportunities to learn about Ames history through exhibits, programs, research assistance, and events.
Exhibits
Feature exhibit:
Black Trailblazers
This exhibit explores the legacies of nine Black pioneers in Ames history – Jack Trice, George Washington Carver, Walter Madison, John and Nellie Shipp, Willa Juanita Ewing, James Herman Banning, and Archie and Nancy Martin. Step inside a replica of Banning's "Miss Ames" airplane, view crayon portraits of the Martins, and learn more about each of these remarkable individuals whose contributions reach far beyond Ames.
Small exhibits:
Dairies
Learn about O'Neil's, Moore's, and other local dairies.
Early Ames Autos
Have you ever wondered who owned the first car in town? Or where they would take it to get fixed? This exhibit examines Ames's first automobile owners, salesmen, and repairmen.
Younkers Little Shop
The first branch store established by Younkers was on Main Street in Ames, carrying a small selection of merchandise and serving as an order location for items from the main Des Moines store. Learn more about Younkers in Ames, from Main Street to North Grand Mall.
Stevens Block: 231-233 Main Street
Learn the history of the building that over time housed the opera house, a grocery store, Carr Hardware, and more. This building is now the home of The Loft Resale and Family Martial Arts Center.
VEISHEA
The first VEISHEA celebration was held on Iowa State's campus in May 1922. Learn more about VEISHEA traditions, parades, entertainment, and the riots that ultimately caused the celebration's permanent cancellation.
Additional small exhibits include a timeline of Ames history, aerial views of Ames, and more.
Enjoy a 10% discount in the Ames History Museum gift shop on Saturday, September 17, 2022 for Smithsonian Magazine Museum Day.
Participation in Museum Day is open to any tax-exempt or governmental museum or cultural venue on a voluntary basis. Smithsonian magazine encourages museum visitation, but is not responsible for and does not endorse the content of the participating museums and cultural venues, and does not subsidize museums that participate.