For People with Dementia, Does It Take a Village?
A community in the Netherlands has become a model for how to help people feel at home even after they've lost their memory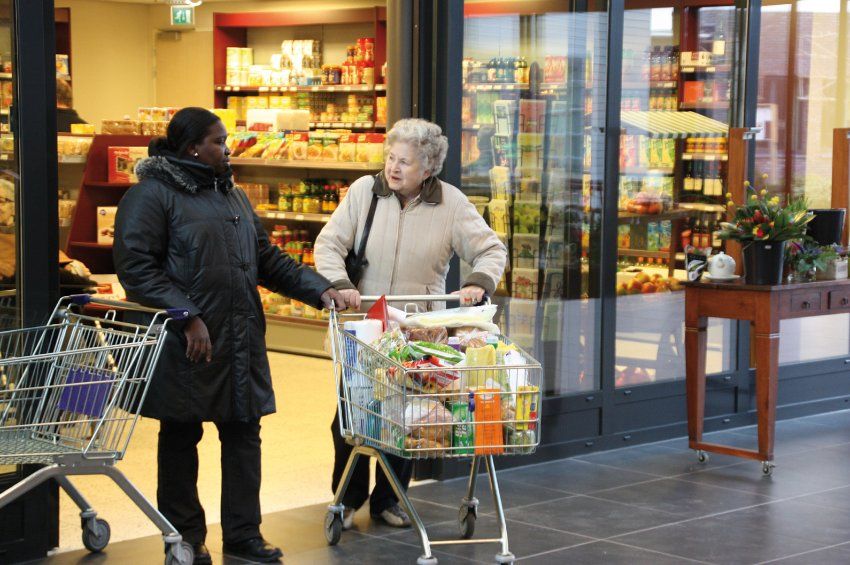 More than 100 years ago, a German psychiatrist named Alois Alzheimer first described the condition that would bear his name. Sadly, we're not that much closer to a cure or even a treatment that can slow the grim mental dimming that affects so many lives. 
By the latest estimate, as many as 135 million people in the world will have Alzheimer's disease by mid-century. That's a whole lot of people who will have difficulty taking care of themselves.
So it's worth taking a look at a small community not far from Amsterdam in the Netherlands, one that's become known as "Dementia Village."  Its actual name is Hogewey, and for the past few years, it has become the world's most innovative model for a place where people who've gone adrift can feel at home.   
About 150 people live in Hogewey and every one of them has severe dementia. But instead of spending their days planted in front of TVs in a place nothing like what they've known as normal, many of the residents stroll around their little village. They have their own supermarket, theater, hair salon, café and gardens. Yes, the compound is fenced in, and yes, there's a security gate, but the residents are free to roam, as they follow what they remember to be their daily routines.
Everyone lives in two-story dormitories, with six to eight people to an apartment. The caregivers live with them—without uniforms—but the residents can help cook and clean if they want. The apartments are meant to reinforce the sense of comfort, designed around several different lifestyle themes. People who once loved the arts share living quarters with others of a similar past. Paintings decorate the walls and music usually plays. For those who lived as religious Christians, the rooms are quite plain, and instead of paintings, you see crosses. Even the food people eat is tied to their lifestyle choices, all with the purpose of making them feel that little in their life has changed.
A different reality
The managers of Hogewey used to run a more conventional nursing home, and from that experience have learned what not to do with Alzheimer's patients. They know, for instance, that when a person with dementia approaches a door or gate, it generally doesn't mean they're trying to escape, but rather that they've seen a door and want to walk through it. Once they're told it's locked, they're usually satisfied and walk away.
The staff also knows that most people with dementia really don't like to sit alone, that they're less likely to get stressed or aggravated if they stay active. And caregivers know that it's pointless to try to correct residents. They're not likely to remember what they're told, so little, if nothing, is gained by telling them they're wrong. If someone makes strange or unnecessary purchases at the supermarket, he or she isn't told to put them back. Later, the caregiver quietly returns them.
Hogewey's managers have heard that the world they've created is illusory, but that largely is the point. Why force reality on people whose grip on it is slipping? All that truly matters, they say, is to provide a place that's recognizable and safe. 
Based on how its residents have responded, the approach appears to be working. Compared to the patients at the traditional nursing home it replaced, the people at Dementia Village take fewer medications and eat better. 
And, they're living longer.
Home not so alone
Then again, not everyone with dementia needs to move into a special community. In fact, most experts think that people with less severe conditions are better off living in their own homes as long as possible. 
But how do you make that happen, given all the potential health and safety threats?
Judging from a trial run by a team of researchers from Johns Hopkins University School of Medicine,  regular visits from people known as "memory care coordinators" could make a big difference.
The 18-month-long pilot program, known as Maximizing Independence (MIND) at Home, sent counselors and nurses into the homes of elderly Baltimore residents with dementia. First, they diagnosed memory and behavior problems and took an account of medications, health and safety issues. Then they worked with the person's family to develop a personalized care plan that would address those matters. They also identified community activities the dementia patient could engage in so that they weren't just watching TV, and if the person needed a will or had to be told to stop driving. 
The 100 or so people in the trial who received an in-home analysis, along with follow-up monthly check-ins with their families, were able to stay in their homes a median of nine and half months longer than those in the control group. This, said lead researcher Quincy Miles Samus, "can make a huge difference in terms of comfort, money and quality of life."
Samus hopes that what they found will help encourage more health insurers to cover community-based care programs like this, because in the long run they could be considerably less costly than moving people into assisted living communities. A key point: Counselors that Samus and his team used didn't have clinical backgrounds or any prior training in working with people with memory problems. All of them received just four weeks of intensive training before going out in the field.
Mind matters
Here's some other recent  research that may benefit Alzheimer's patients:
What's that smell?:  Researchers at the Harvard School of Engineering and Applied Sciences have developed what they call an oPhone. It's a device that can, through Bluetooth and smartphone attachments, text, tweet or email odors to another person with an oPhone. One possible application is to help Alzheimer's patients restore memories through familiar smells—something previous research has suggested is possible.  
On second thought, turn down the grill: Eating meat that's grilled, barbecued or fried may accelerate aging and Alzheimer's disease. That's what scientists at Mount Sinai Hospital in New York concluded after feeding mice food high in compounds called "advanced glycation endproducts" (Ages)—they're abundant in browned meat cooked at high temperatures. Among the findings: Mice on high-Ages diets tended to accumulate deposits of amyloid-beta protein in their brains, a key biomarker of Alzheimer's.  
Another reason to keep track of what you forget: A lot of aging people joke about losing their memories, but a recent study at the University of Kentucky suggests they should start taking it seriously. Researchers asked 3,700 men over the age of 60 who came into the Sanders-Brown Center on Aging if they noticed any change in their memories since they last came in. And it turned out that by tracking those who reported memory lapses, the scientists were better able to identify those who would suffer cognitive decline. 
Video bonus: Here's a TED talk from last summer in which scientist Siddharthan Chandran explains how special stem cells may help a damaged brain repair itself: