Remembering Henry Johnson, the Soldier Called "Black Death"
Henry Johnson suffered 21 wounds and rescued a soldier while repelling an enemy raid in the Argonne Forest in 1918 but died 11 years later a forgotten man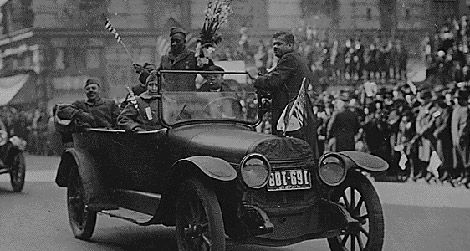 Like hundreds of thousands of young American men, Henry Johnson returned from World War I and tried to make a life for himself in spite of what he had experienced in a strange and distant land. With dozens of bullet and shrapnel wounds, he knew he was lucky to have survived. His discharge records erroneously made no mention of his injuries, and so Johnson was denied not only a Purple Heart, but a disability allowance as well. Uneducated and in his early twenties, Henry Johnson had no expectations that he could correct the errors in his military record. He simply tried to carry on as well as a black man could in the country he had been willing to give his life for.
He made it back home to Albany, New York, and resumed his job as a Red Cap porter at the train station, but he never could overcome his injuries—his left foot had been shattered, and a metal plate held it together. Johnson's inability to hold down a job led him to the bottle. It didn't take long for his wife and three children to leave. He died, destitute, in 1929 at age 32. As far as anyone knew, he was buried in a pauper's field in Albany. A man who had earned the nickname "Black Death" in combat was quickly forgotten.
The denial of a disability pension, the Purple Heart oversight, the fleeting recognition—none of it surprised his son, Herman Johnson, who later served with the famed Tuskegee Airmen. The younger Johnson knew all about Jim Crow, second-class citizenship and the systematic denial of equal rights to black Americans. But in 2001, 72 years after Henry Johnson's death, a great and unlikely mystery was revealed to the soldier's estranged son: On July 5, 1929, Henry Johnson had been buried not in an anonymous grave in Albany, but with military honors at Arlington National Cemetery. Historians who located Johnson's place of burial believed there could be no more appropriate honor for Herman's father, who proved his valor on the night of May 14, 1918, in the Argonne Forest.
Just a year earlier, Henry Johnson, who stood 5-foot-4 and weighed 130 pounds, had enlisted in the all-black 15th New York National Guard Regiment, which was renamed the 369th Infantry Regiment when it shipped out to France. Poorly trained, the unit mostly performed menial labor—unloading ships and digging latrines—until it was lent to the French Fourth Army, which was short on troops. The French, less preoccupied by race than were the Americans, welcomed the men known as the Harlem Hellfighters. The Hellfighters were sent to Outpost 20 on the western edge of the Argonne Forest, in France's Champagne region, and Privates Henry Johnson and Needham Roberts, from Trenton, New Jersey, were given French helmets, French weapons and enough French words to understand commands from their superiors. The two American soldiers were posted on sentry duty on the midnight-to-four a.m. shift. Johnson thought it was "crazy" to send untrained men out at the risk of the rest of the troops, he later told a reporter, but he told the corporal he'd "tackle the job." He and Roberts weren't on duty long when German snipers began firing at them.
After the shots rang out, Johnson and Roberts lined up a box of grenades in their dugout to have ready if a German raiding party tried to make a move. Just after 2 a.m., Johnson heard the "snippin' and clippin' " of wirecutters on the perimeter fence and told Roberts to run back to camp to let the French troops know there was trouble. Johnson then hurled a grenade toward the fence, which brought a volley of return gunfire from the Germans, as well as enemy grenades. Roberts didn't get far before he decided to return to help Johnson fight, but he was hit with a grenade and wounded too badly in his arm and hip to do any fighting. Johnson had him lie in the trench and hand him grenades, which the Albany native threw at the Germans. But there were too many enemy soldiers, and they advanced from every direction; Johnson ran out of grenades. He took German bullets in the head and lip but fired his rifle into the darkness. He took more bullets in his side, then his hand, but kept shooting until he shoved an American cartridge clip into his French rifle and it jammed.
By now, the Germans were on top of him. Johnson swung his rifle like a club and kept them at bay until the stock of his rifle splintered; then he went down with a blow to his head. Overwhelmed, he saw that the Germans were trying to take Roberts prisoner. The only weapon Johnson had left was a bolo knife, so he climbed up from the ground and charged, hacking away at the Germans before they could get clean shot at him.
"Each slash meant something, believe me," Johnson later said. "I wasn't doing exercises, let me tell you." He stabbed one German in the stomach, felled a lieutenant, and took a pistol shot to his arm before driving his knife between the ribs of a soldier who had climbed on his back. Johnson managed to drag Roberts away from the Germans, who retreated as they heard French and American forces advancing. When reinforcements arrived, Johnson passed out and was taken to a field hospital. By daylight, the carnage was evident: Johnson had killed four Germans and wounded an estimated 10 to 20 more. Even after suffering 21 wounds in  hand-to-hand combat, Henry Johnson had prevented the Germans from busting through the French line.
"There wasn't anything so fine about it," he said later. "Just fought for my life. A rabbit would have done that."
Later the entire French force in Champagne lined up to see the two Americans receive their decorations: the Croix du Guerre, France's highest military honor. They were the first American privates to receive it. Johnson's medal included the coveted Gold Palm, for extraordinary valor.
In February of 1919, the Harlem Hellfighters returned to New York for a parade up Fifth Avenue, where thousands lined up to cheer for a regiment that had amassed a record of bravery and achievement. Among the nearly 3,000 troops was a small man leading the procession from the convalescents' section: Promoted to sergeant, Henry Johnson stood in the lead car, an open-top Cadillac, waving a handful of red lilies as the crowd shouted, "Oh, you Black Death!" along the seven-mile route. The Hellfighters'  arrival in Harlem "threw the population into hysterics," the New York Times reported.
Upon his discharge, the Army used Johnson's image to recruit new soldiers and to sell Victory War Stamps. ("Henry Johnson licked a dozen Germans. How many stamps have you licked?") Former President Theodore Roosevelt called Johnson one of the "five bravest Americans" to serve in World War I. But by the mid-1920s, Johnson's difficulties were catching up with him, and he declined until his death in 1929. Once they examined Johnson's records and read press accounts of his return to the United States, historians from the New York Division of Military and Naval Affairs suspected that Johnson might have been buried at Arlington, but microfilm records indicated only that a William Henry Johnson was buried there. It wasn't until administrators requested the paper files that they learned there was a data entry error: It was indeed Henry Johnson who was buried at Arlington. Though his son was surprised to learn that Johnson had not been buried in a pauper's grave, the soldier's family was even more surprised to learn that there had been a ceremony at Arlington with full honors. "Learning my father was buried in this place of national honor can be described in just one word—joyful," Herman Johnson said as he stood at his father's grave in 2002. "I am simply joyful."
Historians did not forget what Johnson did in the Forest of Argonne back in 1918, however.  In 1996, President Bill Clinton posthumously awarded Henry Johnson the Purple Heart. And once Johnson's place of burial had been located at Arlington in 2001, the Army awarded him the Distinguished Service Cross, the nation's second-highest military decoration.
In recent years, a chain-of-command endorsement in the form of a memo from Gen. John J. Pershing, commander-in-chief of the American Expeditionary Force in World War I, written just days after Johnson's heroics in the Argonne, was discovered in an online database by an aide to Senator Charles Schumer of New York. Schumer believes that this endorsement, not known to exist for nearly a century, will be enough to bestow another posthumous award on the man known as Black Death. "There is no doubt," Schumer said this past March, standing before a statue of Johnson in Albany, "he should receive the Medal of Honor"—the nation's highest military honor.
Sources
Books: Ann Hagedorn, Savage Peace: Hope and Fear in America 1919, Simon &Schuster, 2007. W. Allison Sweeney, History of the American Negro in the Great World War, Project Gutenberg Ebook, 2005.  Chad L. Williams, Torchbearers of Democracy: African American Soliders in the World War I Era, University of North Carolina Press, 2010.
Articles: "Beat Back Force of 25 Germans, Willing French War Cross" by Junius B. Wood, Chicago Defender, May 25, 1918. "Ceremony to Honor Memory of Johnson" by Jill Brice, Schenectady Gazette, January 10, 2002.  "Honour At Last For War Hero Ignored for Being Black" by Olivery Burkeman, the Guardian, March 21, 2002. "Fifth Av. Cheers Negro Veterans," New York Times, February 18, 1919.  "Henry Johnson and an Honor Long Overdue" by Chad Williams, George Mason University's History News Network, April 10, 2011. http://hnn.us/articles/138144.html "Support Grows for Medal of Honor" by Paul Grondahl, Albany Times Union, March 23, 2011. http://www.timesunion.com/local/article/Support-grows-for-Medal-of-Honor-1256102.php "Henry Lincoln Johnson, Sergeant, United States Army," Arlington National Cemetary Website, http://www.arlingtoncemetery.net/henry-johnson.htm "Dynamite Comes in Small Packages" by Lieutenant Colonel Gerald Torrence , WWW.ARMY.MIL, The Official Homepage of the United States Army, http://www.army.mil/article/8655/DYNAMITE_COMES_IN_SMALL_PACKAGES/