Jobs of the Future: How Accurate Were the Soothsayers of 1982 At Predicting Today's Top Careers?
College graduates take note: Your dream career as a robot psychologist or nasal technologist is just around the corner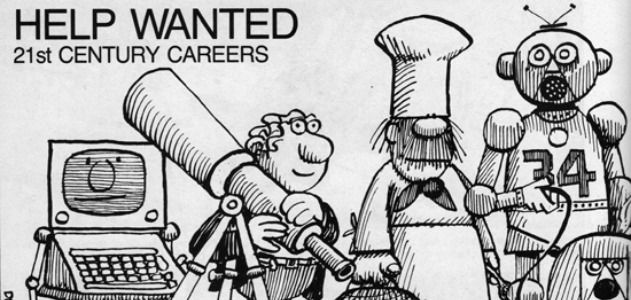 The Kids' Whole Future Catalog touted itself as "a book about your future." This 1982 book promised kids a peek into a coming era of automatic language translators, cities floating on the ocean and robot teachers. It also told kids about the kinds of jobs they'd have 30 years into the future. Well, 30 years have passed and it seems like as good a time as any to look back at their predictions.
Some of the predictions about which jobs would become obsolete are remarkably prescient. One of the predictions involves travel agents and stockbrokers, who are predicted to become scarce thanks to the home computer which allows people to make their own airline reservations and check stock prices. There's even a prediction about jobs at the post office disappearing, as more and more people send mail through the computer.
What kind of job will you be working at 30 years from now? Do you expect to be programming computers or delivering mail? Can you imagine yourself as a stockbroker or a travel agent? Don't be surprised if you end up in a totally different kind of career than the one you're thinking of right now. In 30 years, some of today's jobs may no longer exist. The computer will eliminate many of them. As more and more people send mail by computer, jobs at the post office will disappear. Stockbrokers' and travel agents' jobs may also become scarce. Instead of calling these experts, people will use their own home computers to check stock prices and make airline reservations. Today, computer programmers are in great demand, but in 30 years, they might not be. By then, many computers will be able to program themselves.

But don't worry about find a future career. Although some kinds of work will no longer be available, new job opportunities will open up— in space industries, genetic engineering, undersea mining—maybe even robot psychology! Thirty years from now, you may be working at a job we can't even imagine today.
Of all the job listings, one in particular stuck out to me. The "history research position" pretty accurately sums up my current occupation:
HISTORY RESEARCH POSITION AVAILABLE. Are you interested in what written communication was like back in the 20th century? Extensive computer work involved. Weekly reassignment, flexhours, and personally tailored workload. Zip your resume to WHATWAS CORP., 4V19*D458S
Another possible occupation of the future was a "genetic engineer" who would work on breeding animals that could survive in space. I'm not sure what a "girax" is. Any guesses?
GENETIC ENGINEER WANTED to develop space-sturdy strains of cows, goats, and giraxes. High zero-g tolerance, degree in animal genetics required; training in trans-species communication desirable. Top salary. Reply to SPECIAL SPECIES CONGLOMERATE, R20*H520##
The space theme continued with more listings for jobs in space, even with a new version of the cruise ship comedian: the space colony actor.
ACTORS/ACTRESSES. Be a star among the stars! Sing and dance on stages throughout the galaxy! The UP AND AWAY THEATER has bookings at Moon Base II and all the major space colonies. Zip your video tape to Minerva White, Director. 46X8N06*

IS EARTH GETTING TOO CROWDED FOR YOU? New Frontiers, Inc. is currently listing thousands of job opportunities in space. Registration information from TY**039##4

SHUTTLE PILOTS. Universal Airlines need experienced shuttle pilots for its regularly scheduled weekend flights between Earth and the moon. All positions involve job-sharing. If you have logged a minimum of 1,000 hours in space and are looking for a steady, secure position, zip your resume to *47WXH7824

CHEFS needed for space hotel. To specialize in insect cookery. Top salary plus time-in-space bonus pay. Free transportation to and from Earth. Zip your resume to Earth Headquarters, SPACE-OUT INNS, J207*1P26V
It was fairly common for Americans of the 20th century to expect that life expectancy would continue to climb indefinitely —and with good reason! Life expectancy in the year 1900 was just 49.2 years of age (47.9 for males, 50.7 for females), but by 1980 that number had climbed to 73.9 (70.1 for males, 77.6 for females). In 2012 that number is about 78.
CENTURIAN EMPLOYMENT COUNSELOR. Would you like to specialize in the employment needs of persons over 100? High-level job search skills necessary. Top pay, liberal time off benefits. Contact Lyn, CENTURY EMPLOYMENT, *193B8*G26

APPRENTICE HERBOLOGIST. Work with an experienced herbologist. Learn to prescribe herbal remedies for common diseases. Biology or botany degree desirable. Inquire UW480*2XN6

NASAL TECHNOLOGIST needed to develop and test mood-creating products for home and industrial use. Biochemistry degree with smell specialty required. Send resume to the NEW OL-FACTORY, INC. 41*WD570B60
Some of the jobs even included "your own personal robot":
ROBOT RELATIONS. Interviewer needed to design or match personal robots to the needs and desires of human customers. Four years experience with robots, psychology degree, and high-level communication skills necessary. Your own personal robot included. Inquire MECHAN PALS INC., 5K2*1B8*NV2

PEACE ANALYSTS. We need two members for the Earth Food Distribution Committee. Varied cultural and dietary background required, plus creativity and communication skills.
FOAM HOME PHONE SALES. Do you transmit with style? Job involves computer chats with people all over the globe. We will train. Send video tape and resume to XANA-DOME, INC., K904022**5