Ed Maloney's Mission
The man behind, beside, and all over, the Planes of Fame Air Museum.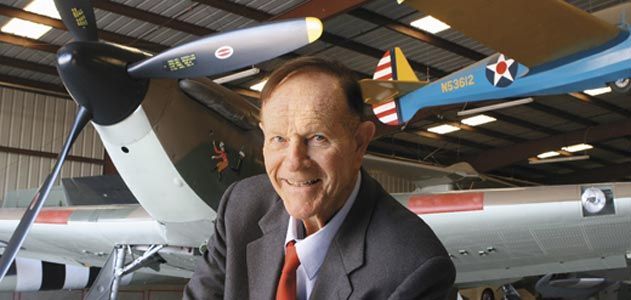 One of the most obscure aircraft of World War II, the Mitsubishi J8M1 Shusui, survives today only through remarkable happenstance. The Shusui is a Japanese copy of the Messerschmitt Me 163 Komet, a rocket-powered interceptor produced late in the war to defend German cities from Allied bombers. In 1943, Japanese military attachés, knowing that U.S. B-29s would soon be unleashed against the home islands, bought the Komet design from the Germans. By August 1945, however, only a few pre-production models had been built.
There are two places in the world today where the rare Shusui aircraft can be seen. One is the Mitsubishi factory museum in Komaki, Japan, where a damaged Shusui discovered in a Japanese cave in the 1960s has been restored for display. The other, thanks to the foresight of a teenager who spotted the craft in a southern California storage yard, is the Planes of Fame Air Museum in Chino, California. The 19-year-old who recognized in 1948 an aircraft that few would know even today (the owner of the storage facility thought it might be some kind of boat) was Ed Maloney. The Shusui, which had been captured by U.S. forces and brought to the States, became the first artifact in his now world-famous collection of 150 aircraft. A Mitsubishi team traveled to Chino to measure Maloney's Shusui so they could complete the restoration of their airplane.
On certain days of the week, a visitor is likely to spot the tall, erect figure of Edward T. Maloney busying himself around the Planes of Fame museum, chatting with visitors, or rearranging some of the hundreds of finely crafted scale models of aircraft in glass cases that line the sides of some of the hangars. Many of the models, which depict the evolution of aircraft from the 1903 Wright Flyer through the Lockheed Martin F-22, were created by Maloney himself.
"I had been building models since I was seven years old," he recalls. "I remember the Jimmy Allen club, used to be on radio. Richfield Oil sponsored them Monday through Friday. You could send in and become a member and they would send you pictures and things like that."
Maloney was one of the first to see the need to save historic airplanes. A high school student during World War II, he was too young for the military, but he joined the Civil Air Patrol and learned to fly. In 1946, when he was a high school senior, he made a trip to Cal-Aero at the Chino airport, one of the largest collection points in California for surplus military aircraft. That same year, he had seen William Wyler's Academy Award-winning film The Best Years of Our Lives. Wyler had filmed a sequence at Cal-Aero, in which rows of abandoned, engine-less World War II airplanes symbolize returning airmen and soldiers who were lost in civilian life, victims of American indifference. The scene made a powerful impression on Maloney. And what he saw at Cal-Aero—row after row of airplanes being auctioned to scrappers by the hundreds—cemented his determination to save as many examples of warplanes as he could.
Maloney is ordinarily even-tempered, but his voice tightens with anger and disgust when he describes how the airplanes were melted down to be sold as scrap aluminum. "They made ingots out of them," he recalls. "They'd just stack them up with forklifts as high as a building. It was just mind-boggling." Later, he spoke of the recycling going on today at the Davis-Monthan Air Force Base boneyard in Tucson, Arizona: "I go down there and it makes me sick. They don't smelt them anymore. They have a new machine down there now; it nibbles the parts off airplanes. It's a terrible sight to see an airplane nibbled to death."
In 1948, while he was working in his father's automobile repair shop, Maloney bought the Shusui for the cost of its unpaid storage charges. "I wanted to start a museum," he says. "Somebody had to start it or it wouldn't get done." Almost 10 years later, he opened one in Claremont, California. Last year, it celebrated its 50th anniversary.
"I charged a dollar admission," Maloney says of the early years. "Of course, I had the model collection and engines on display, all kinds of aeronautical items in showcases." Besides the Shusui, Maloney had bought a 1928 Boeing P-12E, a U.S. Army biplane fighter with an all-metal fuselage; a Japanese rocket-powered kamikaze Ohka; and, today one of the most famous flying aircraft in the collection, a Northrop N-9MB Flying Wing. (It became airworthy in 1994; see "And Then There Was One," Feb./Mar. 2007.) "We also had a Bell P-59 and a Chanute glider," Maloney says. "Got the doors open anyhow. It was always my intention to have flyable aircraft, but that would have to come later because we didn't have a cadre of pilots at that time." Today, about a third of the museum's aircraft are flyable.
For his first purchases, Maloney paid scrap prices. "Aluminum was going for 25 or 30 cents a pound," he says. "At the time, P-51s were going for fifteen hundred dollars." He bought airplanes as well as bits and pieces of airplanes. In the 10 years before he opened the museum, he stored his collection in his own back yard and wherever else he could find space.
Six years passed after the opening before Maloney could devote his full time to the museum. "I held two jobs," he says, recalling the day job in his dad's shop. "I worked nights and weekends on the airplanes. I hired a retiree to keep the museum open during the days. I didn't take any salary. The museum paid for the rent and the electric bill, primarily."
Meanwhile, he made some trips to study what other museums were doing and was discouraged by what he saw. He visited the Smithsonian, which he recalls had some interesting airplanes in an old Quonset hut on the National Mall. He visited the Franklin Institute in Philadelphia. The Air Force museum in Dayton, Ohio, hadn't opened by that time. "Everybody was pretty short on aircraft," he recalls.
He was especially dismayed by the Los Angeles County Museum of Science and Industry. "Here we had the largest production center for aircraft in the country," he says, "and they had three airplanes down there at the L.A. County museum. They had a guy who was director of aeronautics and they buried him in the basement. I went down to visit him and they had a Sopwith Snipe from World War I on loan from the movie actor Reginald Denny. The only other aircraft they had on display was a Douglas World Cruiser. The third one was a Curtiss HS2L flying boat. They left it outside and it finally rotted."
At the time, in fact, Maloney's little collection was the only real air museum west of the Mississippi. Aviation photographer Frank Mormillo remembers the early days: "There was an article in one of the Los Angeles papers with a picture of Ed. This was 1957. I didn't have a driver's license yet, so my dad drove me to Claremont. It was basically a dirt lot with a bunch of rocks. It wasn't really a building, it was a flat concrete slab with corrugated metal sides that went about halfway up to a metal roof with netting the rest of the way."
Mormillo, who still volunteers as a media consultant, speaker, and sometime master of ceremonies for museum events, recalls, "You went in through a B-29 nose section and there was Ed sitting behind the seat. If you went to Ed's house, which was just a few blocks away then, you would have seen pieces of airplanes in his back yard and in his garage, full from floor to ceiling with all sorts of rubbish. Literally, at that time the P-47, the P-51A, the P-40, and the P-59 were all disassembled in the back yard."
Maloney continued to scrounge and scramble for rare aircraft wherever in the world he could find them. (After a five-year search, he tracked down in Guatemala a Boeing P-26A Peashooter, the first pursuit monoplane flown by the U.S. Army Air Corps.) In 1963 he moved the museum to nearby Ontario International Airport, and in 1970 moved the airplanes to Buena Park, California, near Disneyland, to complement a collection of Hollywood automobiles. To match the jazzy "Cars of the Stars," Maloney coined the name "Planes of Fame." When in 1973 the museum moved to its present location at Chino, the name stuck. In 1995, a second facility opened, in Valle, Arizona, where 35 airplanes are on display.
Meet the Airplanes
A walk around the museum with Ed Maloney is a history lesson in airplanes, even for someone who thinks he knows something about aviation.
"On the other side of me, you see this big biplane," Maloney points out in the foreign-aircraft hangar. "That's a Russian An-2. The North Vietnamese used them in the war to bring supplies down to the south. Had an F-101 pilot in here not long ago, and he said he was looking down one day and saw one of these land on the highway. They opened the door and kicked out all the guns and ammunition and just took off again and headed back for Hanoi. We acquired this one [from a civilian government operation in Hungary] and had it dismantled and shipped over. We flew it for a number of years. It's amazing that they're still being used in some of the communist countries as transports, dusters, sprayers …."
We move on to a Korean-era fighter. "And this Yak-18 is called 'Bed Check Charlie.' They'd throw out hand grenades or whatever bottles they had to make noise to keep our troops awake at night. The only Navy ace in the Korean War shot down five of these flying a Corsair F4U-5NL. There's still a few flying in Europe, but they're kind of rare."
We stop at a little biplane, a Hanriot Scout.
"Here's the first World War I aircraft we acquired," he says. "It belonged to the third-ranking French ace, Charles Nungesser. When the war was over, he brought this and several other airplanes over to do a little barnstorming. In 1925, he did a motion picture at Roosevelt Field called The Sky Raider. The pilot of the photography airplane, I found out years later, was Igor Sikorsky."
On completion of the movie, Maloney tells me, the producers of The Sky Raider hired Nungesser to perform aerial stunts to promote the film across the country. At the end of the tour, he stored the airplane at the Santa Monica airport, which was then Clover Field, and returned to France to prepare for an attempt to fly across the Atlantic. He disappeared during the flight.
"When I was just a kid in grade school, I remember seeing the Hanriot Scout," says Maloney. "They'd do movies like Men With Wings, Tailspin Tommy, and Hell's Angels, and the theater would rent this plane and put it in the foyer. I got to thinking back in the early '50s and I said, Gee, I remember that airplane. That's got to be around here someplace. It had a skull and crossbones on the side."
Then Maloney did what has led him to many an airplane since: He started "asking around." He found that the owner had died and that the airplane now belonged to his wife, who had stored it in a warehouse, and was willing to sell. "So I bought it from her and assembled and restored it," he says.
Keep 'em Flyin'
In a fenced lot outside one hangar sits a B-17 without its war paint. The last active Flying Fortress in the U.S. Air Force,
Piccadilly Lilly II retired in 1959. "This is the B-17 that was used in the television series 'Twelve O'Clock High' years ago," Maloney says. "We'd like to put it back in the air, but we've only raised enough money to paint it."
The museum stopped flying it in 1975. "It's a lot of work," Maloney says, "and we just have so many mechanics and we keep quite a few airplanes flyable so we just decided to park it for a while and then come back to it."
Still, it's the flying aircraft and the experience of seeing and hearing them come alive again that make the museum so remarkable. Over the years, former B-17 crew members—pilots, crew chiefs and gunners—have showed up to hang around and reminisce about the missions they flew. The sights and sounds and smells of working aircraft renew powerful memories of what it was like back then. For younger visitors, flying aircraft create an experience that static displays or history books could never match.
One of the museum's finest possessions is the Mitsubishi A6M5 Zero fighter, the only flying A6M5 with the original Nakajima Sakae 31 engine, a 14-cylinder radial that produces 1,200 horsepower. "About 12 of them were captured on Saipan in June 1944, along with some spare engines and parts," says Maloney. The Navy brought the aircraft back to the United States, gave half of them to the U.S. Army Air Forces, and restored four of them for flight tests. Maloney bought it from a scrap dealer. There were no documents with it, but while he was stripping paint from the aft tail, he found a number—61-120—and started piecing together its story. The number was the designation of the Japanese military naval air group.
"I've done all the history on it," says Maloney, "and I even have the logbook from the Navy. They invited all the leading test pilots from Northrop, Boeing, North American, Grumman, Ryan, and Convair to fly these airplanes. They could also fly the Navy fighters so they could compare performances. Charles Lindbergh flew it at Patuxent River Naval Air Station in Maryland in October 1944." Maloney also corresponded with the aircraft's designer, Jiro Hirokoshi. The museum has taken the Zero to Japan on three occasions to fly it for audiences there, the first time in 1978 for a ceremony to honor the souls of departed military pilots. Most recently, the museum also took a P-51 Mustang along to show them together.
For his efforts at preserving aviation history, Maloney was inducted in 2001 into the Experimental Aircraft Association's Hall of Fame. In 2006, the Society of Air Racing Historians honored his collection of racers by awarding him the Cliff Henderson award, named for one of the founders of the Cleveland Air Races.
As the years went by, the airplanes Maloney had bought at scrap or bargain rates became rare, and well-heeled trophy hunters entered the collecting game. Prices soared. Although Maloney has never let up in his 50-year "treasure hunt," as he sometimes calls it, the competition has gotten much stiffer for a museum that often had to struggle to stay in business. Inevitably, some prizes slipped through his fingers.
"Found a biplane P-6E Hawk advertised. I would liked to have bought it but didn't have the money," he says. "Of course, the Air Force Museum in Dayton had some wealthy friends, and they purchased it. That's a rare one.
"You don't get to collect everything you'd like to get. We can't complain. We have a pretty good collection. Visitors come from all over the world to see the aircraft. We're a little off the beaten path here, but we like it in a way because we can still fly here."
All in the Family
The organizational chart for the museum looks a little like an abbreviated Maloney family tree. "It didn't start out to be a family operation," Maloney says. "I founded it and had two sons. I said, 'Well, if you don't want to fly, you don't have to fly.' They came out and started washing airplanes and sweeping the floors just like anybody else, and they ended up staying in the business."
Jim Maloney, the older son, started hanging around the museum when he was seven. He brought along his best friend in the second grade, Steve Hinton. "What did I do when I was seven? I picked up Coke bottles and made a mess," Hinton recalls. But, with the younger son, John, the boys grew up around the airplanes. They washed and painted them and picked up mechanical experience. Eventually, they learned to fly, first the Stinson L-5, then the North American T-6 and the P-51. They flew warbirds for the television series "Baa Baa Blacksheep" in the early 1970s and, as their reputations as performers grew, became known among the aviation cognoscenti as "the Chino kids." After a brief stint as an airline pilot, Hinton came back to Chino to found Fighter Rebuilders with Jim Maloney. In 1983, Maloney died when a Ryan PT-22 in which he was a passenger went into a spin during an aerobatic maneuver in Arizona.
Hinton's career as a movie pilot, holder of a world speed record, and championship racer (he now flies the Planes of Fame T-33 as the pace plane at the Reno air races every year) has made him famous in aviation circles. He is one of the world's most experienced pilots of vintage warbirds, having racked up hours in everything from a Sopwith Camel to a Northrop F-5B.
His company, Fighter Rebuilders, located at the museum, has restored aircraft for collectors such as Bob Pond, whose airworthy warbirds are displayed at the Palm Springs Air Museum in California, and Stephen Grey and his Fighter Collection at Duxford, England. With such clients, the company is able to maintain a full-time crew the museum could not otherwise afford.
Hinton, who joined the family formally by marrying Ed Maloney's daughter Karen, is now president of Planes of Fame; Karen works as director of development. Their 19-year-old son Steve Jr. appears to be following in his father's footsteps. He flies the T-6 and late last spring he checked out in the P-51.
The museum supports itself with private donations from corporations and individuals, movie and airshow work, admissions and gift shop sales, and annual dues from memberships. One of the lures of membership is the possibility of a winning ticket in drawings for rides in one of the rare warbirds.
But much of the vitality of the museum comes from its corps of volunteers, all of whom share Maloney's passion for historic aircraft. Volunteers do most of the restoration work. An eight-person team, for example, has spent every Saturday for 11 years working on the Bell P-59 Airacomet, the first U.S. jet fighter (see "Restoration," Aug./Sept. 2005). According to volunteer Bob Velker, who describes himself as a "recovering engineer," there are half a million rivets in the wings alone. "We've got about 40,000 man-hours in it right now," he says.
The museum hopes to have the P-59 flying by May.
Then there will be another project to fit in between the museum's regular attractions. On the first Saturday of every month, the museum holds an event usually combining a seminar with one or more demonstration flights. A recent Saturday program on naval air power featured the F4U Corsair, and a later event on "Remembering Wake Island" will include the Japanese Zero.
Each mid-May, Planes of Fame holds a two-day airshow, which is arguably the world's most spectacular aerial display of rare warbirds from all generations. It features aircraft from other collections as well as those from the museum. Last year's 50th anniversary show drew a record crowd of about 25,000. Where else, after all, can aviation fans still see three Lockheed P-38 Lightnings flying in formation?
And a new education facility for young people is in the works. Karen Hinton, who is raising the money to complete it, describes it as a hands-on learning center, organized to illustrate different eras of aviation with remote cameras that can relay images of airplanes in the museum, a flight simulator as well as a control tower simulator, and a working wind tunnel, among other features. The wind tunnel is now under construction.
A Quonset hut at the north end of the tarmac will house a new display to open later this year with artifacts and memorabilia from the 475th Fighter Group, a P-38 outfit based in the South Pacific. Charles Lindbergh flew combat missions with the group as a civilian pilot during the war.
Ed Maloney, his passion for collecting as strong as ever, dreams of more hangars to protect more airplanes. Recently, he stood in a hangar doorway gazing up at Steve Hinton pulling a P-38 through a steep 360 overhead. Does he ever get tired of watching these airplanes fly? I asked him. A "What, are you crazy?" smile came over his face.
"Never," he said.